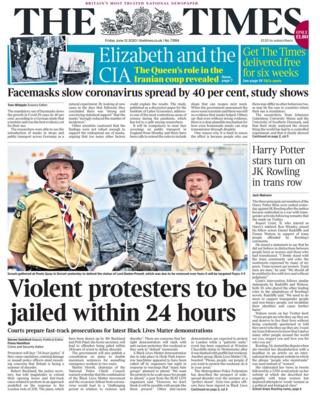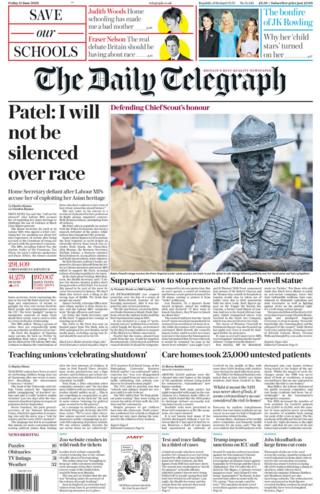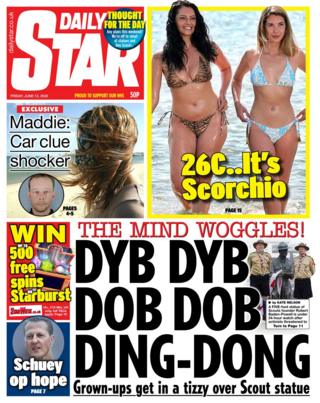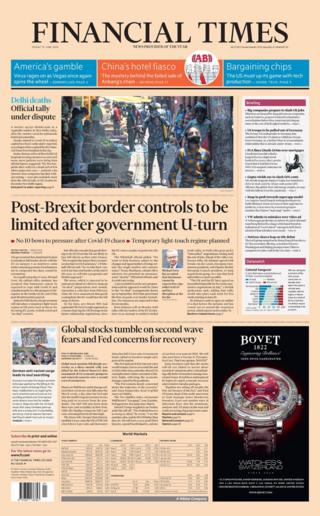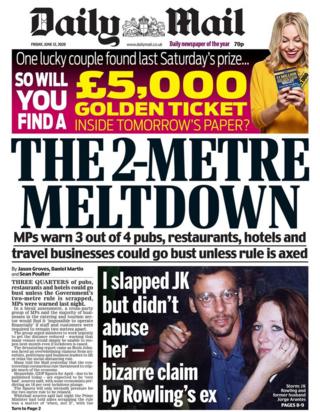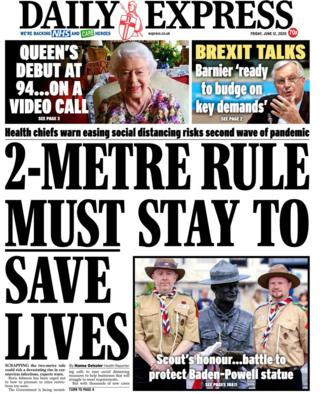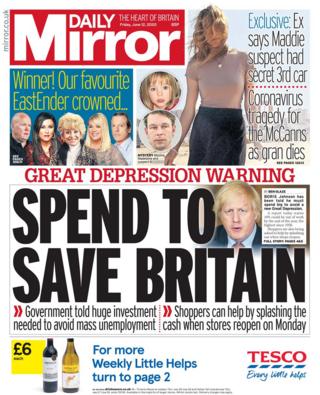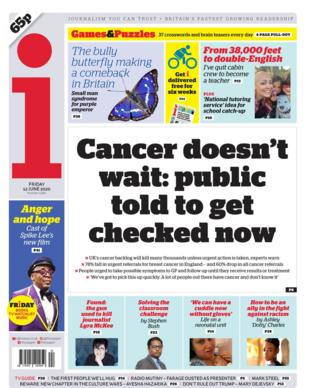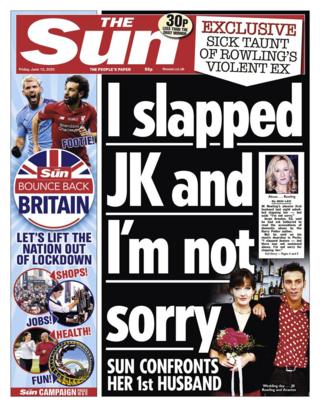 In Friday's papers, the Times reports that Justice Secretary Robert Buckland has told magistrates courts to extend opening hours and fast track cases to ensure violent protestors can be jailed within 24 hours. 
The paper says there are fears the UK could be facing a summer of discord, due to ongoing anger sparked by the death of George Floyd in the US. 
The paper's editorial calls for upcoming Black Lives Matters protests to be cancelled to avoid spreading coronavirus, claiming that allowing thousands of people to take to the streets could spark a new wave of cases just as the country is starting to emerge from the lockdown. 
Writing in the Daily Mirror, Paul Routledge calls the protests "a useful safety valve for explosive social tension", but cautions those taking part not to expect any real change to come from their actions any time soon.  
Many of the front pages feature photographs of the Robert Baden-Powell statue in Poole, after attempts to remove it over the founder of the Scouts' views on race were resisted by local residents. 
Writing in the Daily Mirror, the director of the V&A Museum and former Labour MP, Tristram Hunt, endorses the removal of the Edward Colston statue in Bristol but cautions against pulling down more, saying we risk becoming ignorant to what he calls our country's "brutal heritage" if we remove "every street name and monument which highlight our bloody past". 
Comedian Mark Steel pokes fun at that view in the i, saying "hopefully someone is already preparing a giant statue of a drop of spit full of coronavirus because, whatever you think of it, the disease has had a profound effect on the world and deserves to be remembered".
Meanwhile, several of the back pages feature reports that Premier League footballers' names will be replaced with the Black Lives Matter slogan on their shirts when the season resumes. 
The Guardian is among those to run the story, adding that they understand the league will not object if players decide to take a knee prior to matches – an action that sparked huge controversy when the American football quarterback Colin Kaepernick did it in 2016. 
The BLM slogan won't be the only change made to kits, with heart-shaped badges paying tribute to NHS workers also set to feature.
'Relax 2m rule'
There's plenty of discussion about whether the 2m social distancing rule should be relaxed. 
The Daily Mail's front page claims that three quarters of UK hospitality and travel businesses are at risk of closure unless the restriction is eased, with the paper's editorial saying its abolition is central to the country's economic recovery. 
And the Sun's leader tells the government to be bold and change it to a 1m restriction, as advised by the World Health Organization. 
Sign up for a morning briefing direct to your inbox
The Sun's front page features an admission from the former husband of JK Rowling, saying he is not sorry for slapping her during their relationship. 
Jorge Arantes denies subjecting the author to sustained abuse, after she made allegations against him in an essay on transgender issues, explaining her opposition to efforts to make it easier for people to change their gender. 
That issue prompts conflicting reactions from two Daily Telegraph columnists. Diana Thomas calls Ms Rowling's view that some people could subject themselves to gender reassignment just to attack women "dangerous nonsense". 
Suzanne Moore comes out in defence of the author, taking aim instead at the stars of the Harry Potter movie franchise who have criticised Ms Rowling. She accuses Daniel Radcliffe and Eddie Redmayne of "mansplaining" the issue, and questions why she must have "posh young actors police her womanhood". 
And there's been plenty of speculation about young people choosing to defer university places next year due to the impact of the coronavirus pandemic, but a fellow at the University of Oxford has warned those seeking to get a place there to forget about "finding themselves" and ditch plans for a gap year. 
The Times quotes Sos Eltis from Brasenose College, saying that students should only take a break for very good reasons and not to just spend time in the pub with mates. 
The English lecturer told the paper "some schools believe universities are looking for rounded people. But I say 'no, you can be as flat as a pancake so long as you are good at the subject".